Vision 2021: George Freeman For Seattle City Council Position 8
---
Mandate For Change
Homelessness

Seattle needs to offer our deprived communities with social, mental, and physical health services which can be modeled after the Library to Go and Bookmobile programs across the country. Health mobiles can visit low-income housing complexes for seniors and people with disabilities, retirement homes, assisted living facilities, and nursing homes. Services offered could include vaccinations, counseling, and crisis intervention.

To address the city's problem with tent encampments, we need to implement "sanctuary" homeless parks that can be set up as centers away from residential and school areas. If possible, use I-5 underpasses that are not exposed or visually seen by the public. Gated and controlled entry would ensure safe and secure access. Potable water and single occupancy bathrooms and showers.

Security to include observation cameras, metal detectors, and registration wristbands.

Free shuttle busses to be available for critical transportation needs such as appointments, job training, etc.

No on Charter Amendment 29! This charter should be held off and voted down because it deducts an estimated $150 million dollars a year from the city's $1.5 billion-dollar General Annual Budget. The matter needs to be rejected until the new city council can investigate and draft a comprehensive, inclusive homeless plan to provide permanent, stable, affordable housing with program oversight.

Transportation

Before I-5 was built, Harrison, Thomas, and John streets were connected from Capitol Hill to Downtown, but they failed to be reconnected after its completion. Now, with only four connecting roads (Denny, Pike, Pine, and Olive), traffic buildup is oversaturated.

Headed north on I-5, we need a connection in order to merge onto 99 North if I-5 is gridlocked. This can easily be done by adding an onramp from the West Seattle Bridge overpass from I-5 as it crosses Highway 99

Now that the new 99 tunnel has been built, we need to connect it to the Aurora bridge by extending it with 2 additional express lanes. I suggest enclosing the new northern express lanes to contain noise and exhaust fumes from disrupting neighborhoods.

In the past, Seattle has built bike lanes on main arterial roads. As a result, the bike lanes are a mess! Seattle must, henceforth, look at any additional bike lanes running parallel to the main arterial roads, thereby preventing busses, trollies, and cars parking and disturbing the city's flow of commerce, and injuring cyclists.

At every spot where three or more people have been killed on our highways, we need signage in place to raise awareness of the location's death toll. For example: "Danger! 5 people killed here".

In order to protect windshields from damage, all trucks, semis, and trailers are required to have mud flaps no less than 5 inches on all rear tires, which would include raised 4-wheel vehicles.

Seattle Police Accountability

Seattle needs to revamp the police accountability board called OPA (Office of Police Accountability). Currently 9 SPD senior sergeants are at salaries in excess of $100,000/year. The pay they receive does not reflect the value of their service. They need to be replaced by energized, young, (and neutral!) attorneys who are dedicated to truth and justice by contracting with UW and SU law schools, hiring 2nd and 3rd year law students. Students are assigned as investigators and write conclusions of all incidents under the supervision of their clinics. Law students are empowered under (APR) 9 Civil Procedure to investigate and access all police files and personal history files of bad acting cops, further writing and documenting their findings. Graduating law students who have passed the BAR should have these positions. Misconduct by any city servant of Seattle is the property of the people and must be transparent at all times.

Under fair representation of the population, Seattle is 50% female; however, the police department is not. We need to adjust those numbers for equal parity.

To gain new police officers, we will need to offer reduced housing vouchers and/or mortgage assistance.

For further improved community policing, all new hires will be required to park their cop cars in their own respective neighborhoods. These new contracts should have them spread throughout the city, no less than 10 blocks from each other.

Qualified immunity should not be given to any city employee, nor should the city ever have to pay for attorneys defending bad conduct by city employees, both civil and police. I do think this problem can be resolved by the various labor unions which city employees belong to. It is the unions' duty to provide and finance its' members with liability insurance until they are proven innocent by the court of law. At that time the city will reimburse the insurance claims and damages and the defendant employee's lost wages and time.

The state laws that the Governor implemented pertaining to State Police and an overall instruction that cities can follow. But he has not made this a standard operating procedure for the city of Seattle

Social Justice and Race

Like most American cities, the incarceration rate of minority people is disproportionate to the population of Seattle. Offenses such as possession of marijuana need to be dropped and wiped clean from records.

I call for renaming the Norm Maleng Regional Justice Center in Kent to the Gary Lock Justice Center. Norm Maleng failed three times in his gubernatorial run; he sided with the City of Tacoma's prosecution of a grade school gay teacher and was instrumental in adding pressure on judges for harsher sentences of black folks. Maleng endorsed moral nuisance initiative 355, which put bookstore owners in jail for selling Playboy and other draconian right-wing measures. Gary Lock was a distinguished King County judge, King County Commissioner, and Governor. Gary Lock, today, is the president of Bellevue College and is an outstanding American who has set an example of fair play. He was the first Chinese-American appointed as the US ambassador to China. The Justice Center in Kent should be named after him and rebranded as the Gary Lock Center for Justice.

Gun Violence

Gun owners must have state-certified insurance policies. Those policies can be connected to homeowner or automobile policies if permitted. Seattle must be notified of any accidents or misuses of the permit. No one under the age of 18 is permitted to own a gun. If found with a gun and without a permit, such failure results in a mandatory, maximum, misdemeanor sentence of one year in county jail.

Ammunition should be taxed at 25% the rate of the firearm. Gun magazine sales are illegal in the state of WA. All gun licenses must be renewed yearly; failure is a $250 fine.

Education/ Vocational

The City of Seattle needs to petition the state to offer paid scholarships to all citizens 17 and older to attend military, technical training schools sponsored by defense funding through our Washington State National Guard. Using our state national guard, we enroll marginalized students into training schools similar to Roosevelt's WPA, Conservation Cores, ROTC, etc. We use the largest budget of the people of the United States which is the military budget to bootstrap our kids to a higher educational level with gaining new friends, ideas, cultures, and languages. Six to ten years of such a program could easily increase the overall standards for marginalized kids who will be shepherded into the middle class with new concepts, skill sets, and self-reliance. I believe that to build back better, we have to emphasize the brainpower and discipline of the educational advances and skill sets in computer science seen in other top nations. In this regard, they're bright and we're not.

The city needs to talk to our congressional representatives to come up with legislation to allow the best and brightest foreign students studying in Seattle to remain as citizens. Foreign exchange students who have exemplary grades should be offered citizenship so that this city and this country becomes home to the most gifted students in the world thereby increasing our collective intelligence and stimulating our economy.

SODO

Building improvements: Extend the Georgetown zoning mixture of residences and industrial buildings from Jackson Street to Georgetown. Property owners are allowed to build 10-story residential units such as art studios, home lofts, beauty salons, small manufacturing, etc. allowed as mixed-use buildings.

City improvements

Corporate LED lighting sponsorship for bridges. The Siemens Ship Canal Bridge, The Phillips West Seattle Bridge, General Electric George Washington (Aurora) Bridge, etc

Boost the creative capital of our city by lighting the Duwamish Bay shipping cranes with solar-powered LED lights, taking inspiration from Star Wars Empire Walkers/ AT Walkers. Turn this industrial work zone into an artful display for landing aircraft, further distinguishing Seattle as the Emerald City, and bringing art to SoDo. During the pandemic, 51 million passengers flew over SoDo while landing; we need that passenger traffic out of the planes as feet on the ground inside of SoDo's restaurants, galleries, clubs, and stores. In areas where we can't find a corporation to sponsor the bridge, the city should arrange short-term tax abatements for the cost of enhancements. It is said, if we build it, they will come.

Seattle Center

We need to dome the center so that children and families can use it in the winter months and at nighttime or inclement weather. Use a governmental loan from the city or state to build it. The ticket prices then would pay it off over time.

Gasworks Park

Floating amphitheater on a concrete dock which can interchange when not in use to cover the police and fire boats right next to the park.

We need to extend the building height for buildings in the downtown core. Those heights should be consistent with FAA regulations and we need to take a lesson from Shanghai, Dubai, Singapore, and Kuwait. We need to encourage and support all new buildings to not look like a box and give the world a run for its money in building appearance.

We need more Public freestanding restrooms
Other issues to address
National

Reparations

Confederate statues and undoing the whitewashing

Laws/banking

We need to look at California's banking protection laws

Job creation

Rebuilding after Covid-19

Green New Deal
Summary of positions on ballot initiatives/ Platform
Reinforce ACLU's opinion to oppose CA 29. We need a comprehensive, inclusive homeless plan to provide permanent, stable, affordable housing with program oversight.
Signed,
George Freeman
Updated 6/16/21
Vision 2000
---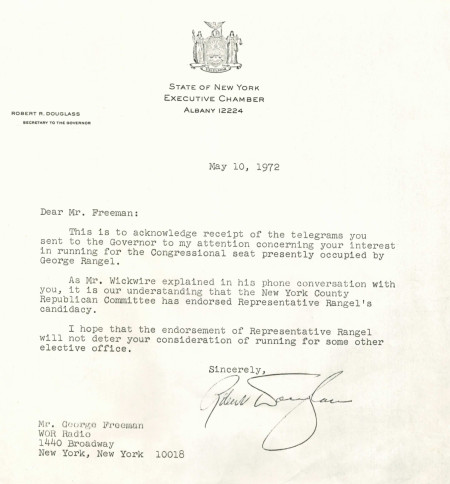 George has felt the effects of political influence on multiple occasions throughout his life. From the civil rights marches, the bus burnings, the lynchings, the hangings, and the multiple murders of black and white civil rights workers in the red rebel Klu Klux Klan states. All of those occurrences have been embedded in his motivation and drive to make the world that he lives in a little better. While at WOR (radio in NYC) Freeman appeared on a number of WOR and other New York City television stations and lectured at the playboy resort forums, Rutgers university, the New School in NYC, Columbia, Long Island University, and other community groups. George was a board member for the Fortune Society, and developed relationships with such notables as Democratic representative Bella Abzug, Mark Goodson, Geraldo Rivera, and many bar and restaurant entrepreneurs of the 70's. His political ambitions manifested again when he moved from New York to Seattle; George studied policy areas which needed improvement, and formulated a vision for the future of the city. On the back of these innovative policy ideas, he decided to make a run for Seattle City Council in 1999.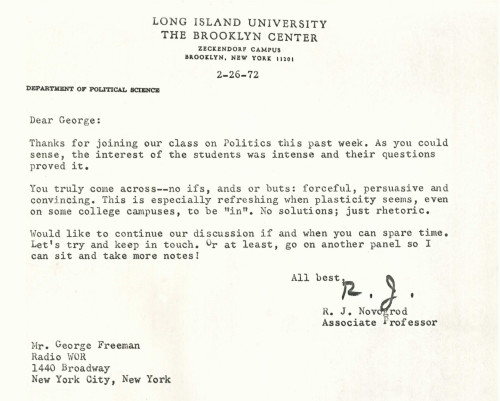 George dubbed his ideas "Vision 2000", and his pitch to voters appeared as follows:
"George Freeman has spent over twenty years as an accomplished and productive member of Seattle's business and design communities. Freeman has visualized, designed, and consulted in the construction of several Seattle restaurant and entertainment establishments. George understands that for Seattle to truly be the Emerald City of the Pacific, neighborhood and infrastructure enhancements must be planned for as we move into the next millennium. George acknowledges that the majority of Seattle residents are renters, and as such, funding to agencies that protect and aid renters must be emphasized. George Freeman opposes infringement on individual liberties and protected rights of all Seattle residents, be they black, gold, red, white; gay or straight; young or old."
Campaign Platform
---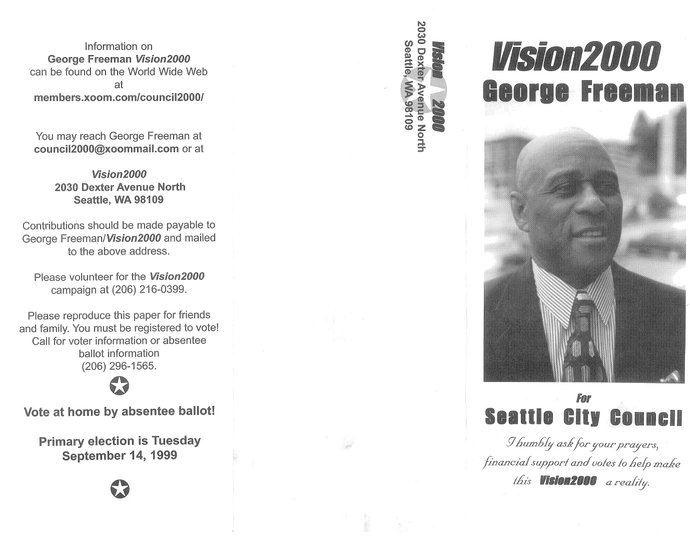 Infrastructure
Seek Federal and State funding for:
Multiple inter-connecting ramps for I-5 and Highway 99.

A new Marginal Way Skyway for transit, cars and bicycles only, connecting Highway 99 with the new First Avenue bridge.

Clean up the I-5 "Mercer Mess".

City-wide expressways.

Mandate all city controlled H.O.V. lanes to operational hours: M-F 7-9 a.m. 3-6:30 p.m. Promote a ballot initiative to compel the State to comply with opening H.O.V. lanes set by local municipal governments.

Dialogue with Burlington Northern and Amtrak to resolve the extreme congestion caused by surface rail lines from Lander Street to the King Street Station during peak traffic times.
Internet:
Seek grants and funding for computerization of our library system and access for all Seattle telephone prefixes to the World Wide Web.

Evening computer training to Seattle residents taught by paid high school computer students.
Trucks
Require Rock Shield Guards no more than six inches from the ground. Protective load shield tarps on all loaded trucks.

Mandated staggered evening hours on all large truck deliveries for business opened after 6 p.m.

Require all trucks, other than pick-ups or SUV size vehicles, to travel in right lanes except to turn.

Re-design of high-impact neighborhood shopping areas to provide inter-connecting vehicular access to other business in the same plot.
Transit
Favors a tourist-supported and cash-productive monorail, or a tunnel system, over any pending surface rail transit, due to potential dangerous impacts on street traffic and pedestrians.

Request Metro to expand downtown daytime free bus zones east to Boren Avenue and north to Mercer Street, thereby bringing relief to impacted downtown parking.

Health and Human Services
Police
Elected citizen review board to equally share control with the Mayor in selection of a Police Chief, and the investigation of citizen complaints.

Salary increases based on performance appraisals. Citizen generated community relations reports required of any officer seeking a merit salary increase.

Video cameras for patrol vehicles to protect the facts and participants involved in police encounters.

Off-duty police officers mandated for large public assembly facilities where alcohol is consumed based upon occupancy levels for security purposes. Similar to the successful San Jose, California plan.
Homelessness
Establish youth and adult homeless support centers in areas south of the King Dome.

City work projects comprised of able-bodied homeless individuals for park, road, and sanitation improvements.

Continuous free one-way shuttle service to the homeless center from neighborhoods impacted with homeless difficulties.

City recognition, involvement, support and/or tax credits for agencies, businesses, and groups aiding in resolving this growing problem.
Environment and City Improvements
Mandate clean fresh air exchange ratios for indoor assemblies that allow smoking.

Gasworks park (design plan forthcoming).

Downtown beautification and enhancement (design plan forthcoming).

Explore the possibility of a joint venture with investment capital from world-class amusement companies to enhance, manage, and police the amusement area of the Seattle Center.

Dialogue with Circus Circus Resorts on joint venture possibilities for duplicating their year-round glass enclosed "Adventure Dome" for family use.

Expedite the development of the proposed African American Museum.

No further funding of any sports facility without part or full City ownership in any operating sports franchise.

Reconsideration of King Dome demolition with anticipation of presidential convention and Olympics bid possibilities.
Housing
Ease downtown building height caps in order to instigate needed residential mixed-use construction with additional public low-cost parking.

Expand downtown core from Denny to Mercer Street.

Establish a joint committee of equal voices from the Apartment Owners' Association and the Tenants' Union to mediate landlord-tenant issues with all city agencies.

Tenants' 60-day first right of refusal on purchasing apartment units operating under DCLU authorization.

Fast-track low interest HUD or bank loans guaranteed by the City of Seattle to allow tenants to exercise purchase options.
Government
Explore expanding school lunch programs to earlier "brunch" concept to ensure that the nutritional and energy needs of students are met.

All meritorious suits against city employees, officers, or agents for individual misconduct must be awarded from the defendant's personal property and finances prior to any city insurance funds being used to satisfy the judgment.

Limits on elected office terms of service not to exceed eight continuous years.

Non-violent offenders given community service to maintain and aid in the construction of new neighborhood dog parks.

Fines for marijuana possession (confiscation and re-classification).

Revision of discriminatory impound law to on-site confiscation of the license plate for all non-DUI offenders. Vehicle to be towed back to offender's property and then restraining tire boot applied by Traffic Enforcement