New York and Galaxy 21


After moving to New York City, George took a job as a salesman with a plastics company. This eventually led him to a job the radio station WOR, for what began as a sales call to sell the station plastic bags for promotional totes, quickly turned into an interview in the station's sales department.
With the rise of disco music and its appeal to New York's increasingly diverse population, George took the initiative to create a new format for WOR which incorporated this new, popular music. WOR decided to shelve the format, but George wasn't done with disco. It was during this era that George entered the world of party promotion. He first hosted gatherings at his own apartment funded with entertainment allowances from WOR. However, the crowds at these parties – made up of a mix of George's sales clients, his personal friends, and the elite after-hours circles of New York – quickly grew too large for the limited space.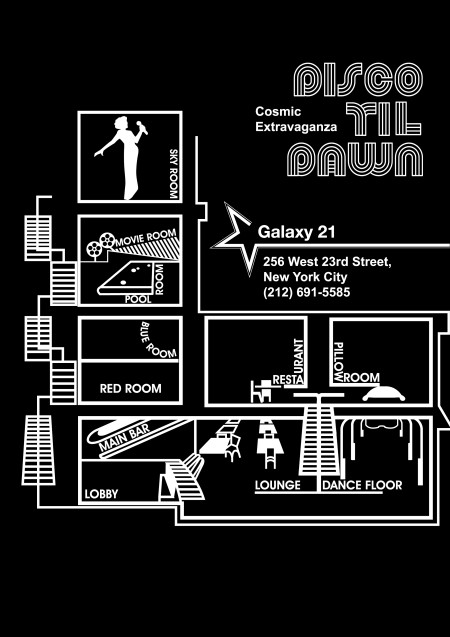 George's parties soon moved to the Fifth Avenue Hotel in Greenwich Village. These popular gatherings mixed the elegance of the hotel's grand ballroom with disco-inflected designs and modern art. The DJ spun Motown hits and even early disco tracks. With word spreading fast and over 1,000 people flocking to the hotel each weekend, it wasn't long before these parties again outgrew their venue. George knew he needed to expand, and so in 1974 he organized a group of investors to purchase a larger space. The prominent parties were moved to the former Cavanaugh's restaurant on 23rd Street, four doors down from the famous Chelsea hotel. George converted this old space into a new nightclub which he named Galaxy 21.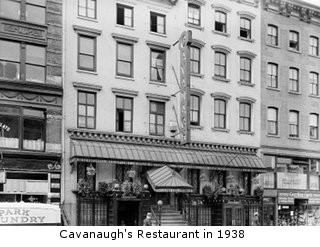 Galaxy 21 quickly became one of the true hot spots in the New York club scene. With multiple themed rooms, an art gallery, and famous DJs backing up a uniquely powerful sound system, the club attracted large crowds right from the start. Prominent guests included Jack Nicholson, Cher, the original Broadway cast of Rocky Horror Show, Motown songwriters Nick and Valerie Simpson, Aretha Franklin, the Rolling Stones, and more. However, the demographic makeup of the crowd shifted over time. After its opening Galaxy lost some of its diversity and evolved into a primarily Puerto Rican club.
In 1976, George was presented with an opportunity to bring the diversity and back to the club. Someone from the Tomorrow Show with Tom Snyder on NBC called Freeman about doing a nationally-televised show from a gay nightclub. Television at the time was not openly gay-friendly, so this was an unbelievable opportunity. Tom Snyder wanted to discuss gay entrepreneurship and the rising gay market, and he thought it would be ideal to do the show live from Galaxy. The only problem with NBC's offer was that they had to finish filming by 7:30 pm in order to make the 11:00 pm live broadcast. George met with the Galaxy staff and came up with a plan to make this happen. NBC wanted live dancers, and with his party-planning experience in the disco dance era, George had plenty of connections. He also asked his friends from the Harkness Dance Center, Alvin Ailey Dance Theater, and Joffrey Ballet to come dance live at the Galaxy.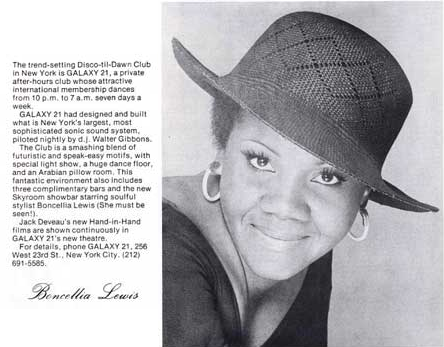 Freeman immediately recognized this publicity opportunity as a way to restore the initial popularity of the nightclub among all New Yorkers. With this in mind, he printed 1,000 embossed fliers to promote the live show, and gave out 30-day VIP "fresh face" passes to select guests, with the goal of bringing in new patrons and injecting new energy into the club. The show was a tremendous success; not only did the NBC live national broadcast promote Galaxy 21 as a popular nightclub, but within six weeks the exposure caused the club's demographics to shift back to its original identity – highly diverse and very gay-friendly.
Unfortunately, by the end of 1976, Galaxy 21 was forced to abruptly shut its doors. The crowds hadn't thinned and the hype hadn't diminished. Rather, it was a matter of shady activity by the landlord that caused the club to turn off the lights. The three buildings composing Galaxy 21 shared a utility meter with a small number of apartments above. Unbeknownst to George or any of his staff, the building's owners, real estate mogul Saul Goldman and his partner Alexander DiLorenzo Jr., had failed to pay the utility bills for those apartments for several years. The owners unfairly attempted, and succeeded, in transferring the debt to Galaxy 21 – resulting in a six-figure bill the club simply couldn't afford.
This unjust ruling brought an end to George Freeman's career as a club owner in New York City. However, it also kick-started the biggest and most extensive project of his life: The Monastery.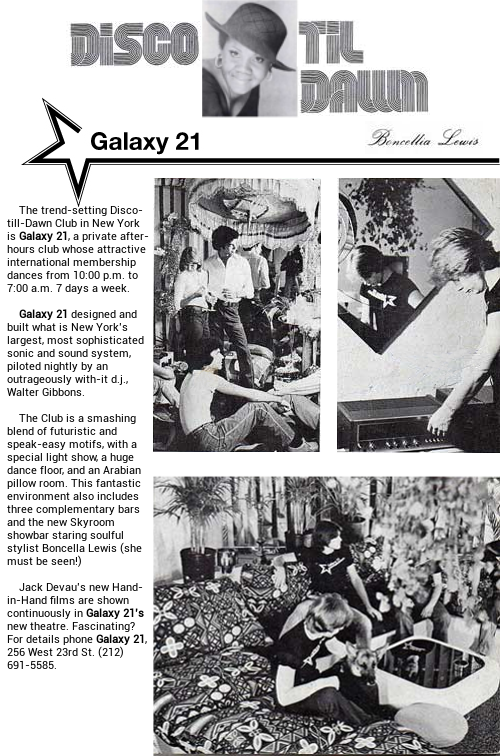 Media from Galaxy 21